HEALTH HISTORY FORM FOR NEW PATIENTS
In order to save time filling out forms when you arrive at the office, feel free to download the appropriate forms and bring the completed paperwork with you.
Call us at (919) 846-2239 if you aren't sure which form(s) to download.
Please Note:
Although we do not directly file claims with any insurance carriers, we can provide you with information and forms to inquire about filing insurances claims for yourself.
Please give us a call with any insurance questions.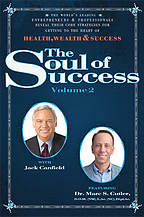 Discover how to restore your health and balance naturally.
Get Marc's FREE CHAPTER from the best selling book, "The Soul of Success" by subscribing to our mailing list.
We hate spam too! We will never sell your email address.