Even the smallest patients deserve drug-free options to safely and effectively maintain their health and well-being. We are specially trained in pediatric holistic care and treat children as young as three weeks. Holistic therapies, massage therapy and pediatric acupuncture are used to help our young patients find relief from pain, allergies, fever, respiratory and digestive disorders, ADD/ADHS, skin problems, even insomnia.
With all treatments, sessions are brief but the benefits are immediate, long-lasting and free of negative side effects. www.hpakids.org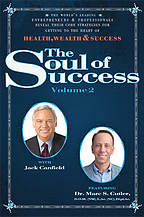 Discover how to restore your health and balance naturally.
Get Marc's FREE CHAPTER from the best selling book, "The Soul of Success" by subscribing to our mailing list.
We hate spam too! We will never sell your email address.